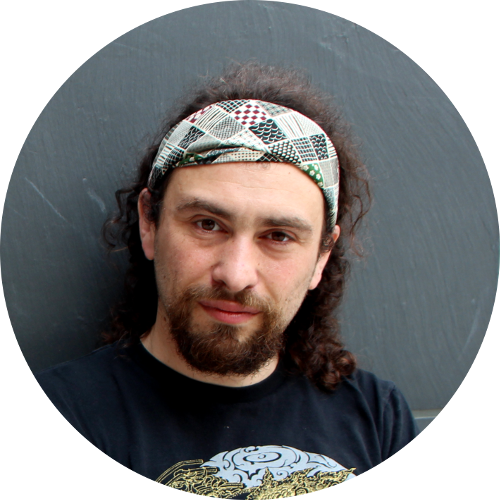 Welcome to my personal website where I'll upload my academic work along with personal projects.
Life abstract
PhD in Computational Biology, long experience in academia with a master at the Ecole Normale Superieure (ENS) ULM. Currently finishing his PhD at Harvard University on diverse topics around Evo-Devo of Arthropods.
Co-Founded the Non Profit organization Just One Giant Lab to promote Open Science across the world and try to make the planet a little bit better and fairer.
Expertise in Data Science and Machine Learning with a focus on sequence data and image analysis.
Participates to interdisciplinary projects, recently with a collaboration with Marc Santolini on the extraction and analysis the iGEM competition.
Helped the european union parliament on science policy surrounding green energy transition.
Open Science and Open Source advocate through participation in multiple projects since childhood. Child of the cypherpunk hacker subculture.
Curriculum Vitae
This is a short web formated Curriculum Vitae, click here for the PDF version.
Education
2014-2020 PhD in the MCO program at Harvard University, Extavour Lab.
2013-2014 Diplome Universitaire, Paris 6. I worked in the Eggan Lab at Harvard, designing a screen to study the stress response of iPS cells with large n.
2012–2013 Master 2 in Systems Biology, Ecole Normal Superieure (ENS) ULM, Paris, France. The ENS is the most prestigious French institution of higher education providing specialized training to student who will become researcher in their field.
2010–2011 Master 1 in Developmental Biology, Ecole Normal Superieure (ENS) ULM, Paris, France.
2009–2010 3rd year Licence in Biology, Ecole Normal Superieure (ENS) ULM, Paris, France. equivalent to a Bachelor of Science
2007–2009 1st and 2sd year of Licence in Biology, University of Science Montpellier 2, Montpellier, France.
2006–2007 1st year PCSI, Lycée Joffre, Montpellier,France. Intensive course preparing for the entrance exams of French elite schools like the ENS of Polytechnique) in Math, Physics, and Chemistry
2006 Baccalauréat in Science, Major Biology, Lycée Jean Moulin, Pézenas, France. French equivalent to the High School Diploma
Research experiences
2014-2020 PhD in Computational Biology in then Extavour laboratory at Harvard University, Cambrige, MA, USA.

2013-2014 1 year diplome universitaire working in Kevin Eggan laboratory at Harvard University, Stem Cell Institute, Cambrige, MA, USA.
Topic: Screen design of high throughput study of oxidative stress response in iPS derived from ALS patients. Analysis pipeline development of machine learning based feature extraction.
2012–2013 6 month Master 2 internship, Aleksandra Walczak team at the Laboratoire de Physique Théorique, Ecole Normal Superieure (ENS) ULM, Paris, France.
Topic: Inference of protein-ligand binding energy model using indirect measurement from high-throughput mutagenesis.
2011–2012 6 month internship, Christoph Wierling laboratory, Max Planck Molgen Institute, Berlin, Germany.
Topic: Inference of regulatory network using Motif based analysis and gene expression data.
2010–2011 5 month Master 1 internship, Kevin Eggan laboratory, Harvard University, Boston,USA.
Topic : Transdifferentiation prediction using gene regulatory networks and genetic algorithm and Functional co-culture of motor neuron and myotube
2009–2010 3 month internship, Shin-Ichi Nishikawa laboratory, RIKEN Center for Developmental Biology (CDB), Kobe, Japan.
Topic : Engineering of FLAG tagged humanLIF protein and human IPS Culture
2008–2009 2 month internship, Olivier Coux laboratory, CNRS CRBM, Montpellier, France.
Topic : Biochemistry of the ATPase ring of the eukaryotic 26S proteasome
2007–2008 1,5 months internship, Eric Kremmer laboratory, CNRS IGMM, Montpellier, France.
Topic : Introduction to laboratory work, and general immunology techniques.
Conferences & Seminar
2018 Harvard Molecular and Cellular Biology annual conference. Winner of the Best Poster award.
2017 EMBO Awakening of the genome: The maternal-to-zygotic transition, Poster presentation, Dresden, Germany
2013 LERU BRIGHT 2013 Workshop, Participant, Freiburg, Germany.
2013 Modelisation of Morphogenesis Workshop, Participant, Montpellier, France.
2011 International Society for Stem Cell Research (ISSCR) conference 2011, Attendee, Torronto, Canada.
2010 Annual seminar of the Japanese Society for Developmental Biology, Attendee, Kyoto, Japan.
2010 Biodiversity Seminar of the Academie des Sciences, Attendee, Paris, France. Equivalent of the National Academy of Science
2009 Annual seminar of the CRBM, Attendee, Montpellier, France.
2008 Annual seminar of the IGMM, Attendee, Montpellier, France.
Ventures
2017 Co-Founded the Non Profit organization Just One Giant Lab, Vice-president and CTO.
Non academic Work
2009–2011 Gave private tuition to high school student in biology, math and physic, Paris, France.
2008–2009 consumer support team, DoYouSoft. Beziers, France.
2007 Waiter at Marie-Louise, bar restaurant, Waiter, Marseillan, France.
2006 Website designs DoYouSoft, design team, Beziers, France.
2005 2 weeks in corn fields, sterilizing females corn plants, Paulan, France.
Languages
French Mother Tongue
English Bilingual
Japanese Beginner
Spanish Intermediate beginner
German Beginner